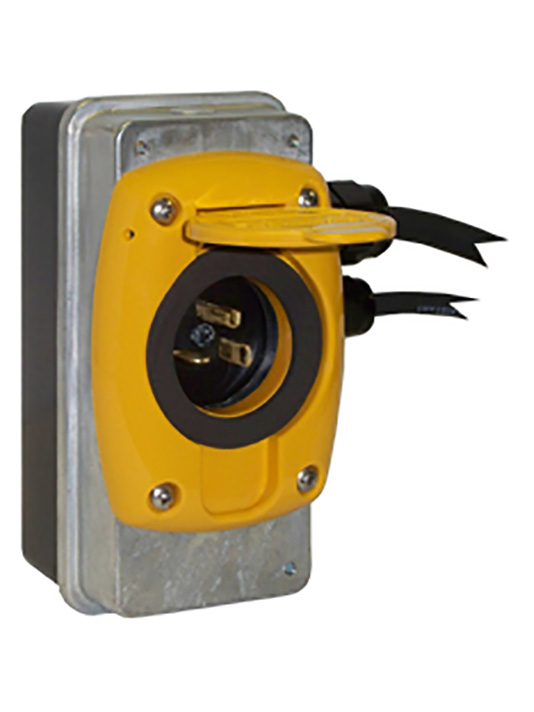 Overview
The Pump Plus Super Kit includes a Charger, a Display, an Auto Pump 12V and a Super Auto Eject. This kit provides a complete vehicle charging system at an affordable price.
The Super Auto Eject comes complete with Weatherproof Cover and Mating Connector. Please specify color cover when ordering. Weatherproof Cover Color choices are Yellow, Blue, Red, White, Gray, and Black. Yellow will be supplied if not specified.
Auto Charge 1000 PP PLC
18A total: 15A battery charger, 3A battery saver
Parasitic Load Compensation allows for user input of total accessory load amps on the vehicle. This allows the charger to shift the absorption stage set point so the battery voltage drops to the float voltage when desired current is reached
Pump output with AC or DC mode dip switch
Microprocessor controlled, completely automatic operation regulates output to a single battery bank
Electronic remote sensing of true battery voltage, eliminates the need for sense wires
Built-in Battery Saver Output
Accommodates Lead-Acid, Gelled Electrolyte, AGM and Odyssey battery types
Configurable for 3-Step or Float Charging
3 hour safety timer while in 3-Step mode
Bar Graph Display Included
Patent Pending
Compatible with Super Auto Eject with Deluxe Cover

 091-55-234-XXX

 (Bar Graph) or 

091-55-194B-XXX

 (Digital Display)
3 year warranty
The Pump Plus 1000 with Parasitic Load Compensation (PLC) is a compact, microprocessor controlled, completely automatic, single channel battery charger designed for vehicles with a single battery system. The PLC charger is designed to withstand the shock and vibration encountered by vehicle mounted equipment.
This new Parasitic Load Compensation feature is designed especially to meet the heavy duty requirements of emergency vehicles. Most emergency vehicles have many parasitic loads on their systems (flash lights, gas detectors, computers, monitoring systems and other items) that can trick a standard 3step charger into over charging the batteries. Parasitic load compensation allows you to input the total number of parasitic load amps on the vehicle. Then
the charger will shift the absorption stage set point so the battery voltage will drop to the float voltage when the desired current is reached. In short the parasitic loads are invisible to the charger. This will lead to a longer battery life and no overcharging or overheating.
The Battery Saver contained in the Pump Plus 1000 PLC charger is a 3 Amp power supply with a relay to remove the accessory loads from the battery and connect them to the power supply when the charger is energized with A.C. power. This permits the charger to recharge the batteries without supplying the accessory load.
A Dip Switch is provided on the charger to operate an Auto Pump 12V either as a D.C. compressor or as an A.C. compressor. In either switch position the compressor operates from the vehicle's battery. When "D.C." is selected, the compressor operates whenever the pressure switch senses low system pressure. This is useful when parking the vehicle away from the 120 volt input power. For those operators who wish to limit compressor operation to the times when the shoreline is connected to the vehicle, the Dip Switch should be placed in the "A.C." position. This will operate the compressor when the A.C. power is available, but shuts off the compressor when the shoreline is removed.
Specifications
| | |
| --- | --- |
| Charger, Output Amperage | 15 |
| Battery Saver | 3 Amp |
| Chargers With Parasitic Load Compensation | Yes |
| Charger With Remote Display Included | Yes |
| Charger- Hz | 60 |
| Input Fuse | 6 Amps, Fast Blow |
| Input | 120 Vac, 60 Hz, 3.5 Amps Max |
| Output Fuse | 30 Amps (Part Number: 090-0040-0) |
| Warranty | 3 Years |
| Weight | 11 Lbs |
| Charge Indicator Options | Remote Bar Graph Display, Deluxe Status Center, Or Watertight Status Center |
| Battery Type Selection Switches | Lead-Acid, Gelled Electrolyte (Gel Cell), AGM Or Odyssey |
| Remote PLC Sensing | Electronic, Sense Lines Not Required |
| Power LED Status Indicator | Green LED, Indicates 120 Volt AC Power Applied |
| System LED Status Indicator | Yellow LED, See Instruction Manual For Details |
| Torque | DC Output Connector 15 In/Lbs |
| Output Power | Battery: 12 Vdc, 15 Amps (18 Amps If Battery Saver Is Turned Off) |
| Output Power – Battery Saver | 13 Vdc, 3 Amps |
| EV Series | No |
Auto Pump 12 Volt
100 PSI Max Rating, 12V, 11A
Vehicle mount compressor ensures truck air brake system is properly pressurized for immediate dispatch from station
Pressure switch regulated operation automatically senses low pressure in air system and restores proper pressure, preventing brake lock-up
No interference with engine mounted air compressor
Factory set PSI actuation points: 75 "On", 95 "Off" with Adjustment differential 20 PSI
Sealed ball bearings for long service life
Compact size
2 year warranty
| | |
| --- | --- |
| PSI | 100 |
| Input Voltage | 12 |
| Orientation | Horizontal |
| Input | 12 Vdc @ 11 Amps Max |
| Output | .30 SCFM @ 80 PSI; .35 SCFM @ 60 PSI |
| Warranty | 2 Year |
| Weight | 6 Lbs |
| Motor Type | Perm. Magnet .10 HP |
| Pressure Switch | Adjustable Set-Point; Factory Set To 75 PSI Cut-In, 95 PSI Cut-Out |
Super Auto Eject
120 Volts AC, 20 Amps
Automatically disconnects shoreline
Completely sealed
Designed specifically for emergency vehicles
Eliminates broken shoreline
2 year warranty
Can use a Standard Waterproof Cover, Deluxe Bar Graph or Deluxe Digital Display
Default color for covers is yellow
The Super Auto Eject is a completely sealed automatic power line disconnect. This prevents contamination of the mechanism by road dirt, and ensures long reliable life even when mounted in the most severe environment. A novel internal switch arrangement closes and opens the 120 Volt A.C. circuit after the mating connector is inserted, and before the connector is removed. This eliminates arcing at the connector contacts, and assures long contact life. As with all Auto Ejects, the Super Auto Eject is connected to the starter circuit, so that ejection occurs when the engine is cranked.
---