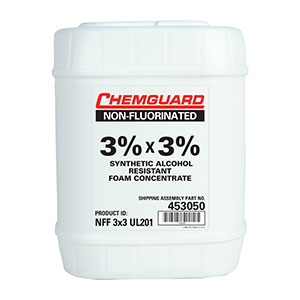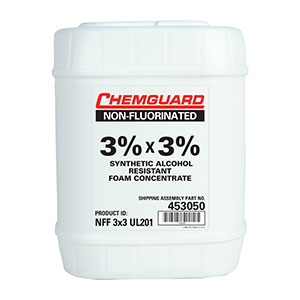 Overview
CHEMGUARD® NFF 3×3 UL201 is a 3%x3% Alcohol Resistant Non-Fluorinated Foam Concentrate that provides excellent fire and vapor suppression for Class B, polar solvent and hydrocarbon fuel fires. This synthetic foam concentrate is intended for forceful or gentle firefighting applications at 3% solution on hydrocarbon fuels and gentle firefighting applications at 3% solution on polar solvent fuels.
CHEMGUARD NFF 3×3 UL201 foam solution utilizes three suppression mechanisms intended for rapid fire knockdown and superior burnback resistance:
The foam blanket has extended drain times to help block oxygen to the fuel and suppress fuel vapor.
On polar solvent fires, liquid drains from the foam blanket and forms a polymeric membrane which protects the foam from destruction by the polar fuel, suppresses vapors, and seals the fuel surface.
The water content of the foam solution produces a cooling effect for additional fire suppression.
CHEMGUARD NFF 3×3 UL201 is defined as a non-fluorinated firefighting foam concentrate, produced in equipment free from the use of PFAS chemistry. Since this product is free from any intentionally added PFAS chemistry, and precautions have been used to avoid PFAS contamination, the concentrate inherently complies with Directives (EU) 2017/1000 on PFOA and 2019/1021 (EU POPs directive) as a non-fluorinated product.
Typical Physiochemical Properties
Appearance
Viscous yellow liquid
Density
1.04 ± 0.02 g/ml
pH
7.0 – 8.0
Refractive Index
1.365 minimum
Viscosity*
1790 ± 250 cPs at 60 rpm
Viscosity*
2900 ± 500 cPs at 30 rpm
Freeze Point**
24 °F (-4 °C)
Storage and Operating Range
35 °F to 120 °F (2 °C to 49 °C)
*Brookfield Viscometer Spindle #4
**per new EN1568:2018 protocol
CHEMGUARD NFF 3×3 UL201 Foam Concentrate is a nonNewtonian fluid that is both pseudoplastic and thixotropic. Due to these properties, dynamic viscosity will decrease as shear increases.
Features
Designed in accordance with NFPA Standard 11 for Low-, Medium-, and High-Expansion Foam
UL162 listed as a synthetic alcohol resistant foam concentrate for use on hydrocarbon and polar solvent fuel fires
Passes UL162 type III test protocol on hydrocarbons at the same design application rate (0.10 gpm/ft2 (4.1 Lpm/m2)) as traditional AR-AFFF products with similar control times

Recommended for use at 0.10 gpm/ft2 (4.1 Lpm/m2) for spill fire applications

Effective control and suppression on hydrocarbon fuels
Superior drain times to high-quality AR-AFFFs, delivering a longer lasting foam blanket for better burnback resistance and after the fire is suppressed.
Application
CHEMGUARD NFF 3×3 UL201 Foam Concentrate is intended for use on both types of Class B fires: hydrocarbon fuels with low water solubility, such as crude oils, gasolines, diesel fuels, and aviation fuels; and polar solvent fuels with appreciable water solubility, such as methyl and ethyl alcohol, acetone, and methyl ethyl ketone. The concentrate has excellent wetting properties that can effectively combat Class A fires. It may also be used in conjunction with dry chemical agents to provide even greater fire suppression performance.
CHEMGUARD NFF 3×3 UL201 is well-suited for use in applications such as municipal and industrial response for spill and limited scale Type III hazards as well as foam systems with Type II discharge devices. Examples of these applications include:
Industrial chemical and petroleum processing facilities
Truck/rail loading and unloading facilities
Flammable liquid containment areas
Mobile equipment
---